Braided updos are the new trend in hairstyles that you can adjust to any style and face shape. You can choose from a wide variety of updos and adapt them to your type of hair and your style. Follow these step by step guides to choose the best hairstyle. Remember that braided updos never go out of style, are suitable for every season and are an easy way to always look great.
Hairstyles should be combined with the clothing and style you've chosen to complement your look and always look phenomenal and appropriate for the occasion. Choosing different braided hairstyles and changing them often will help you always look different, your hairstyle won't be the same and you won't need money or time to go to the salon to change your look.
Among the most popular hairstyles are braided updos, which are perfect for any occasion and you can create many braided hairstyles ranging from simple to complex. There are also several types of braids which can be added to other techniques to create a beautiful hairstyle that fits the occasion.
Updos with braids, step by step
For those of you who only know how to do simple hairstyles like ponytails, buns and classic braids, these tutorials will be very helpful, since the pictures perfectly explain each step you need to follow to create your braided hairstyles very easily.
Updo with three braids
This updo is very simple and perfect for any occasion when you don't have a lot of time to do your hair.
Just separate three sections on each side of your face.
Then, braid each of them and secure them at the end.
Finally, pull all the braids back and join them with a ponytail.
Side braid with hair down
For those who don't care for updos but what their hair to look nice despite the wind in winter or to look perfect after a day at the beach, you can choose to wear a side braid with your hair down.
This hairdo consists of parting your hair in half and making a French braid but only taking strands from the top. You can do it on both sides or from one side of the face.
Super braid with three braids
When a classic braid is too simple, it's better to go for a super braid made with three braids.
For this hairdo, divide your hair in three sections and braid each one.
Then, fluff the braids out a bit so they aren't so tight and lastly just make a braid using the three that you just created.
In the pictures, you can see the steps that you should follow so that it's easier to do.
Beautiful fishtail braid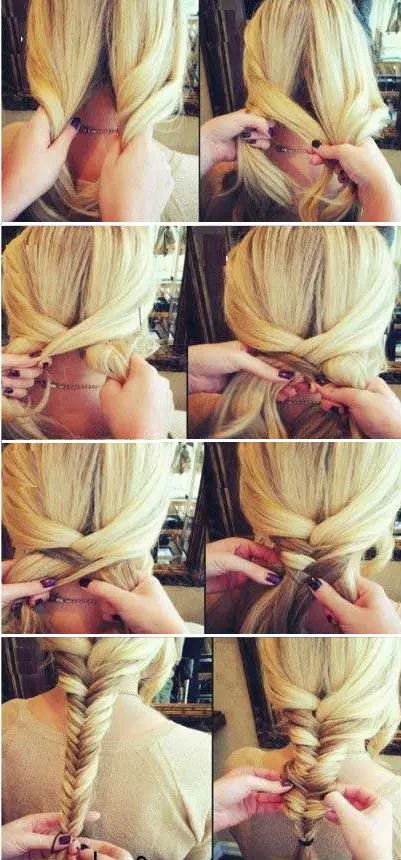 This type of braid is much more complex than the classic ones, and can also be done in high or low ponytails. They tend to look very difficult because of how gorgeous they are, but it's not very difficult to do if you follow the steps as shown in the pictures.
The braid is based on taking two strands to make the braid, taking thin strands from the outer part of them. Later, you can tug on both sides of the fishtail braid so it doesn't look too tight.
Do your own French braid
A French braid is perfect for any occasion and the major advantage is that you don't need another person to do it if you pay attention to this tutorial.
Simply take two strands from the top of the head and make a ponytail, then continue the braid with strands taken from the sides of the head. The pictures show in detail the steps you should follow to be able to create a French braid without needing help.
French braid with hair down
In the previous tutorial we showed how to do a French braid, so this time you combine this type of braid with the remaining hair down and smooth.
This braid, which starts out like any other French braid, is woven from the top of the head to finish in a ponytail that was made beforehand below it. The sides are pulled back and secured to form a faux-hawk without cutting the hair.
You found us searching for:
Updos with braids
Updo hairstyles with braids
Braided updos of the season
Simple and easy braided updo
Braided updo
Braided hairdo