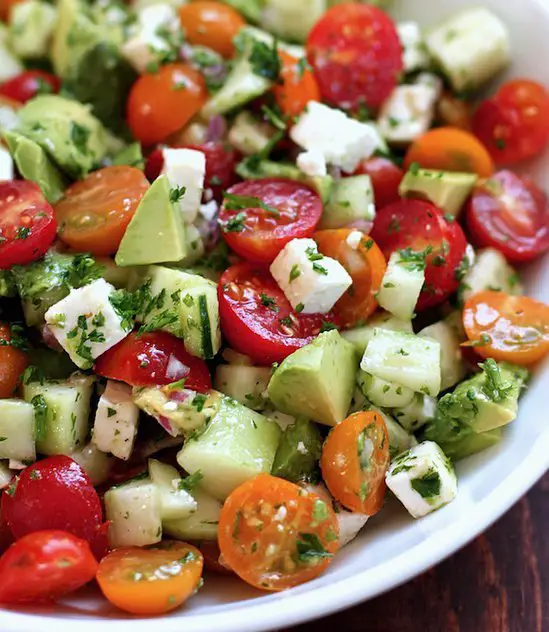 This is a quick and easy salad to prepare that only uses a few ingredients, but will help you tremendously with your goal of reducing belly bloat and losing weight.
The salad contains ingredients full of nutrients, crunchy and fresh, which are hydrating but at the same time help with elimination, making this salad, among other things, a diuretic salad. Cherry tomatoes, cucumber, red onion and a little chopped parsley are all foods that, combined with the creamy avocado, which contains healthy fats that even help you burn fat, will give your palette a delicious mix to enjoy. Mix with a simple red wine vinaigrette and the salad is ready in less than 15 minutes.
Fast, easy and healthy. The following salad goes well with reduction diets and treatments to eliminate fluids. It is a salad to reduce bloating and if you eat it regularly, combined with the elimination of processed foods, your body will have no choice but to lose the bloat and reduce your size.
Salad to reduce belly bloating and lose weight
Ingredients
1 ½ cups cherry tomatoes
1 seedless cucumber, peeled and diced
1 avocado, cubed
¼ cup feta cheese (optional)
2 TBSP chopped red onion
1 handful or 2 TBSP chopped parsley
2 TBSP olive oil
1 TBSP red wine vinegar
Sea salt and black pepper to taste
Directions
Halve the cherry tomatoes and place in a bowl
Peel the cucumber and dice and add to the bowl
Peel the avocado and cut into cubes, using a spoon to separate the avocado from the skin and add it to the bowl along with the cheese
Add the chopped red onion and parsley to the bowl
In a separate container, mix the olive oil, red wine vinegar, salt and pepper and pour over the salad
Mix gently so that the cheese and avocado don't break
Have no doubt; this diuretic salad will help you reduce your bloated belly and body in general, since, in addition to helping with your diet to lose weight, it will make you eliminate fluids that your body is retaining, which make you look wider and heavier. Remember that it's all about learning how to choose which foods to include in our diet, knowing how to eat better and eliminate toxic products from the food industry that are dangerous for our health in general and compromising our metabolism.