A haircut can help take years off your face. Looking younger through a hairstyle is very easily and we have all seen it in someone at some point, even in ourselves. It hides wrinkles, defines the jaw line, and enhances the cheekbones. And the best part is, the effect is instantaneous. You go into the salon looking for your age, and leave looking much younger.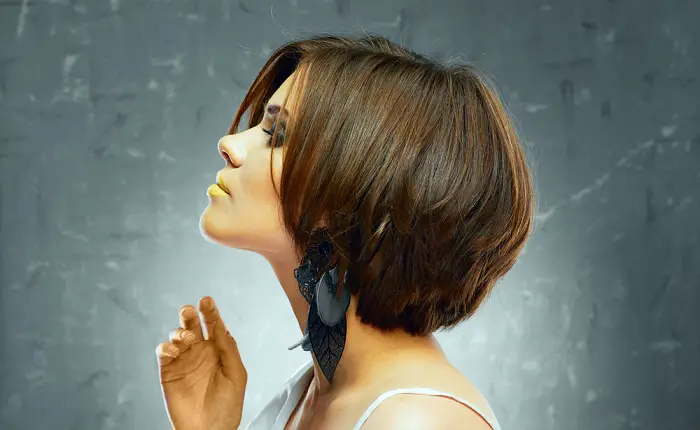 How to look younger with a haircut
Regardless of your type of hair, length and texture, looking younger with a haircut is possible for practically everyone. But first, you should show what face shape you have and go forward based on that. Plus, there are several types of haircuts that are very en vogue that really offer good results. Proper care of your hair is also an essential requirement.
We invite you to keep reading in order to follow these excellent tips step by step to transform your look. A simple haircut and its proper care can take many years off, and who doesn't want to look more youthful and radiant, it's part of our nature and it will make you feel like new!
Choose your face shape
Round
The most flattering hairstyle for a circular face is long hair with an asymmetrical cut, since this creates the illusion of length. Your ideal haircut should be a few inches below the chin or longer. Long layers work very well for a round face, since they make it seem slimmer. Don't make the layers too short, since this will add volume to the sides of the face, emphasizing the roundness. Opt for long bangs that brush the cheekbones to create more dramatic angles. Waves are great and work well to reduce the roundness of the face.
Long
Long hair doesn't work well for long faces, so if you have straight hair and a long face, you should think about creating more width by adding bangs. Bangs go well with every type of face, and those with long faces are lucky because they look great with any kind of bangs. Short hair frames long faces very well and creates width, which means a bob haircut would be ideal for you. And if you have your heart set on long hair, make it wavy to help balance out the length of your face.
Heart shaped
If you were blessed with a heart shaped face, then a long side-swept bang is for you. Since heart shaped faces are wider in the upper part, a side bang softens the width even off your face. The bangs divert attention away from the width of the head and put the focus on your beautiful eyes. Make sure your stylist doesn't cut the bangs too short, since this isn't suitable for your face shape. Ask them to cut it dry instead of wet, since hair tends to shorten when it dries.
Square
Women with a square face look wonderful with long, straightened hair since a strong jaw line needs length to soften the hard lines. We also know that women with square faces are very photogenic. Creating waves at the ends of your hair is also pretty, since it helps hide any sever lines in the jawbone. A long bob haircut looks especially good on square faces, as long as it's not cut at chin level, in this case with would be a "lob" cut, which is nothing more than a longer version of a bob.
Oval
Oval faces look great in any hairstyle, so be creative and experiment. You even have the luxury of going for a super short pixie cut, so don't be afraid to take a few risks. Try a bob cut to show off your perfect chin and cheekbones, or you can also do long beachy waves. Basically, you can have any haircut and the length you want every day (with the help of extensions).
Bob haircut to look younger
A bob haircut is a short haircut for women (and men) in which the hair is typically cut straight around the head at jaw level, often with bangs in the front. This has always been an excellent and youthful haircut and you can play around with it, leaving the bangs blunt, wispy, to one side, or simply with your forehead exposed.
A bob cut always looks good with any color. Plus, you can change this haircut to a "lob" style, which is nothing more than a variation on this haircut worn a bit longer.
Pixie haircut to look younger
The pixie cut is one of the most daring haircuts since it means practically renouncing the feminine stereotype of long hair which usually identifies women. This is a very short haircut, unstyled (sometimes), with a carefree vibe. However, this cut offers you various options for wearing it; it could be with a strand to the side or parted in the center, or all combed back. It brings a fresh, young and cool vibe if you know how to wear it well.
It tends to flatter women who aren't very tall since it leaves the neck uncovered and this gives it a lengthening effect. If you have very strong and angular features, this style will accentuate them. And for those who have an oval face, a short bang will look great. This cut requires a trim every month so it doesn't lose its shape, and should be washed daily because it shows hair oils easily and you can use a natural gel for your hair if you want to style it better.
Proper hair care for rejuvenation
But a haircut alone isn't enough to make you look younger; you also have to take care of it. Here we also offer you an option to give your hair a complete spa treatment. It's a hair mask made from coconut oil.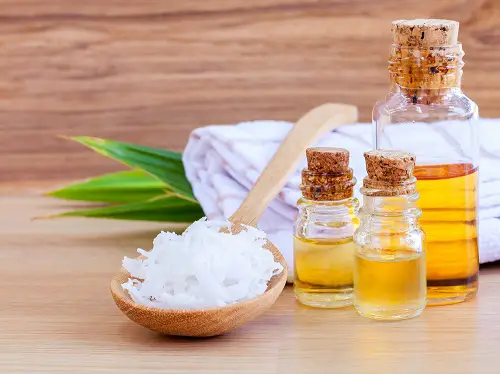 Rejuvenating hair mask with coconut oil
This recipe will make enough for one head of medium to long hair. Add more or less oil according to the length and thickness of your hair. The coconut oil hydrates the scalp and hair, while the olive oil conditions. The gelatin is rich in proteins, which makes it very good at repairing hair which is mainly composed of proteins. You will need:
3 tablespoons of organic virgin coconut oil
2 tablespoons of extra virgin olive oil
1 packet (2.5 teaspoons) of high quality flavorless gelatin
Combine all ingredients in a small cup and mix well. Apply to your entire head with dry hair (dry hair is key for better absorption). Let sit for 15 to 20 minutes (Warning: this may be complicated and it can drip). You can also put on a shower cap to hold the oil in and create a warming effect. Afterwards, wash with your natural shampoo and conditioner. Try an herbal shampoo option, that way you'll end up with a 100% natural treatment.